Iron Filters For Well Water Users, Farms, Irrigation, & Livestock Water Systems:
Iron and manganese in the amounts found in most drinking waters are not harmful to health. The secondary drinking water standards of 0.3 milligram per liter for iron and 0.05 milligram per liter for manganese are set to indicate problems of taste, staining, and cloudiness.
Manganese is one of a small group of chemicals (including iron, copper and a few others) that reaches an undesirable level due to taste, odor, or color before it becomes a health hazard. For this reason, health-based guidelines for these chemicals are usually not available. Instead, secondary or "aesthetic" MCLs have been promulgated by the U.S. EPA. These "SMCLs" are not formally adopted by the state and thus are not legally enforceable. However, exceeding the SMCL usually means that the water is undesirable for human consumption. The SMCL for manganese is 0.05 mg/l.
The existence of an SMCL for a chemical does not preclude that chemical being present in water at a level that would be a health concern if consumed. Consumption of water containing large amounts of manganese has been documented to cause adverse health effects in a few cases. Because of the large amounts of wells being found in the state with high manganese levels, and because some people apparently consume water containing levels much higher than the SMCL, it was determined that a guideline for protection of public health was necessary in addition to the existing SMCL
Iron, unfortunately, is a major problem the world over because over 5% of the earth's crust is made up of it and, as a result, it seeps into some well water supplies. While not normally being a health risks, it does have a number of undesirable characteristics such as:
Iron Removal
We have a range of filters that will deal with varying amounts of iron in the water and will remove the effect and color of iron in the water. There are a wide ranges of Iron Max filters that will deal with the problem. These are self-maintaining units, which do not add anything to the water (no chemicals or salt) but remove that undesirable brown/orange tint.
The Iron Max Well Water Filtration Systems
Single Unit Well Water Filter - Rust, Iron, Manganese, And Sulfur Odor
Without The Use Of Salts Or Chemicals
The Iron Max iron removal and well water treatment systems
Filter IRON without salt ! Traditional water softeners use salt for regeneration. The Iron Max whole house iron removal system uses no salt or chemicals to provide Cleaner Laundry, Cleaner kitchen, More Functional and Efficient Plumbing and Appliances, and Cleaner Bathrooms. Iron, manganese staining and discoloring are eliminated as the iron and manganese are removed. Hydrogen sulfide gas "rotten egg odor" and suspended solids are filtered to provide tastier drinking water, as with coffee, juice, soups, tea, and ice.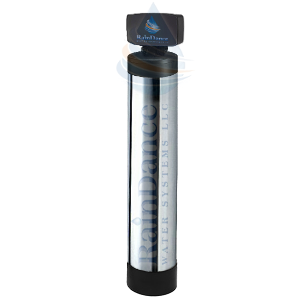 ---
Iron Max Well Water System Whole House Rust, Iron Filter and Sulfur Odor Treatment

Our Best Selling No Maintenance Whole House Iron Filters




Iron Max-9
Flow Rate: 8gpm
Pipe Size: 3/4" or 1"
1-5 Person Household / 1-2 Bathrooms
Best For Approx. 1-500 GPD



Iron Max-10
Flow Rate: 10gpm
Pipe Size: 3/4" or 1"
1-8 Person Household / 1-3 Bathrooms
​Best For Approx. 1-1000 GPD



Iron Max-125-10
Flow Rate: 12gpm
Pipe Size: 1" or 1.25"
1-8 Person Household / 1-3 Bathrooms / Irrigation
​Best For Approx. 1-1000 GPD

Iron Max-125-12
Flow Rate: 18gpm
Pipe Size: 1" or 1.25"
1-10 Person Household / 1-4 Bathrooms / Irrigation
Best For Approx. 1-1500 GPD


Iron Max-125-14
Flow Rate: 25gpm
Pipe Size: 1" or 1.25"
Large Home / Commercial
​Best For Approx. 2000+ GPD

Iron Max-125-16
Flow Rate: 30gpm
Pipe Size: 1" or 1.25"
Large Home / Commercial




Iron Max-18
Flow Rate: 36gpm
Pipe Size: 1.5"
High Flow Water Treatment
Best For Irrigation / commercial



Iron Max-21
Flow Rate: 42gpm
Pipe Size: 1.5"
High Flow Water Treatment
Best For Irrigation / commercial



Iron Max-24
Flow Rate: 60gpm
Pipe Size: 2"
High Flow Water Treatment
Best For Irrigation / commercial

Iron Max-30
Flow Rate: 90gpm
Pipe Size: 2"
High Flow Water Treatment
Best For Irrigation / commercial


The new

Hybrid Iron Max

series features the same great filtration capabilities as our signature Iron Max filters with the added bonus of pH correction to work with acidic low pH waters. The Hybrid Iron Max features a user-friendly design with an easy loading dome hole for hassle-free maintenance!

Hybrid Iron Max-13 pH Boost


In-Tank pH Correction Included!


Flow Rate: 10gpm
Pipe Size: 3/4" or 1" or 1.25"
1-8 Person Household / 1-3 Bathrooms
Best For Approx. 0-1000 GPD



The

Commercial Iron Max

series was created to accommodate high flow and high demand water users who require high performance well water treatment equipment. Plumb two or more Commercial Iron Max systems in parallel to accommodate higher flow rates!

Model #
Tank Size
Pipe Size
Weight
Service
Flow Rate
Backwash
Flow Rate
Iron Max-18
18" Diameter
65" Height
1.5"
870lbs
36gpm
25gpm
Iron Max-21
21" Diameter
62" Height
1.5"
1040lbs
42gpm
30gpm
Iron Max-24
24" Diameter
72" Height
2"
1525lbs
60gpm
45gpm
Iron Max-30
30" Diameter
72" Height
2"
2375lbs
90gpm
60gpm
Iron Max-36
36" Diameter
72" Height
2"
3100lbs
120gpm
90gpm

The

Twin Alternating Iron Max

systems are designed to provide a continuous, unlimited supply of filtered water with dual alternating filter tanks that stagger backwashing cycles so one tank is always ready to filter water no matter when you need it!

Twin Iron Max-10
Flow Rate: 10gpm
Pipe Size: 3/4" or 1"
1-8 Person Household / 1-3 Bathrooms / Light Commercial

Twin Iron Max-12
Flow Rate: 18gpm
Pipe Size: 1"
1-10 Person Household / 1-4 Bathrooms / Light Commercial


Twin Iron Max-14
Flow Rate: 25gpm
Pipe Size: 1.5"
High Water Use Homes / Commercial


Twin Iron Max-16
Flow Rate: 30gpm
Pipe Size: 1.5"
High Water Use Homes / Commercial


The

Non-Electric Iron Max

system filters high iron, manganese, hydrogen sulfide gas odors, and sediment

without electricity or power! This system includes a user-friendly non-electric control valve for manual backwashing when needed. Perfect for vacation home, cabins, and off-the-grid users!

Non-Electric Iron Max-10NE


No Power Required!


Flow Rate: 10gpm
Pipe Size: 3/4" or 1"
1-5 Person Household / 1-2 Bathrooms
Best For Approx. 0-500 GPD



The

Iron Max-FX

series uses the same high performance filtration as our Iron Max treating up to

12ppm

ferrous & ferric iron, up to

5ppm

manganese, up to

3ppm

hydrogen sulfide gas odors,

sediment down to

3-5 microns

, and can also

reduce the effects of hard water scale

with the built-in

salt-free

hard water module!

Iron Max-FX-10
Flow Rate: 10gpm
Pipe Size: 3/4" or 1"
1-5 Person Household / 1-2 Bathrooms / Light Commercial
​Best For Approx. 0-500 GPD


Iron Max-FX-125-12
Flow Rate: 18gpm
Pipe Size: 1" or 1.25"
1-5 Person Household / 1-2 Bathrooms / Light Commercial
​Best For Approx. 0-1500 GPD


Twin Iron Max-FX-10
Flow Rate: 10gpm
Pipe Size: 3/4" or 1"
1-5 Person Household / 1-2 Bathrooms / Light Commercial
​Best For Approx. 0-3000 GPD


---